28.02.2022
Get the most out of your relationship with a temporary work agency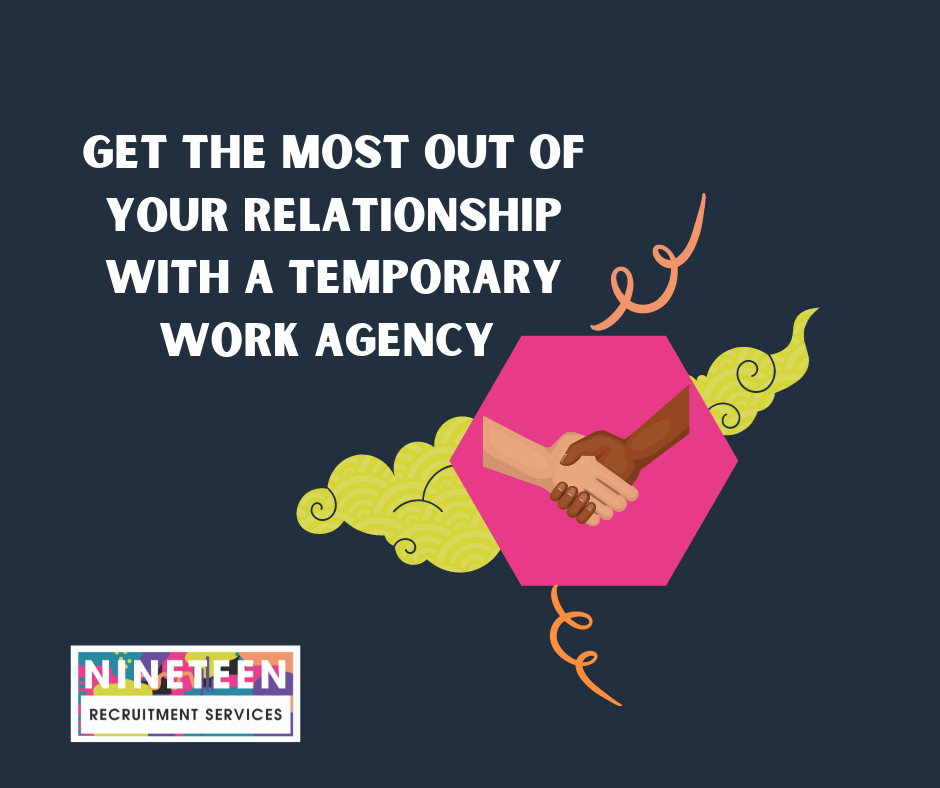 Registered to an agency for temporary work? Check out our friendly guide to getting the most out of your relationship with them!

Get to know the Consultants from the agency who assign the work opportunities. Having a good relationship with them is key as they will then understand who you are, your skills, your experience, where you want to work, and what type of work you are ideally looking for.
Temporary agencies offer the ultimate in flexible working; it's one of the key benefits of that type of work. Working for a temporary agency means that you get to say yes or no to work assignments that come up. However, if you do say yes, try to remember that the client and the agency is relying on you to follow through and show up. It is not always easy for an agency to get a shift/assignment covered at the last minute, and leaving a client understaffed can lead to a whole host of serious consequences. For this reason, only accept work that you can 100% commit to showing up for.
Understand how hard the agency works to coordinate and/or identify work opportunities for you. A lot of work goes on behind the scenes to ensure workers continue to receive regular offers of work. The occasional 'thank you' goes a long way on both sides.
As agency workers, you're responsible for ensuring your training remains up to date so keep track of when training certificates expire and work on getting your training refreshed as soon as possible thereafter. That way, you'll never miss out on a work opportunity.
Be honest. If you are sent to a particular workplace that you don't like, or you have challenges doing a particular role you've been asked to do, be open and honest about it with your agency. A good agency will be patient and supportive with you and will listen to what you have to say. These are the types of conversations that help the agency to identify the most suitable work opportunities for you going forward in the future.
When you accept a shift/assignment, make sure you take a note of all the key details – the date, start time, finish time, location, rate of pay. Taking note of the wrong date or start time or address can cause a whole host of issues for you, the client, and the agency, so make sure you have these noted down in a safe place – and if you aren't sure, always ask. Your agency would rather you double check with them than you get it wrong.
Remember that this is a partnership. It's in the best interests of all parties that you are found work that you are happy with. Your agency wants to find you work just as much as you do.
Some people use temporary agency work as a way to fill a gap between permanent jobs while others use agency work as their long term, full time job. There are plenty of people that make a long term living out of agency work. It's up to you how long you use your agency for, but don't feel under pressure to view temporary work as only being a temporary arrangement. If it works for you, and you're being offered regular work, then there's no reason why you can't continue using temporary work on a long term basis. Make it work for you.
Posted by: Nineteen Recruitment